About Company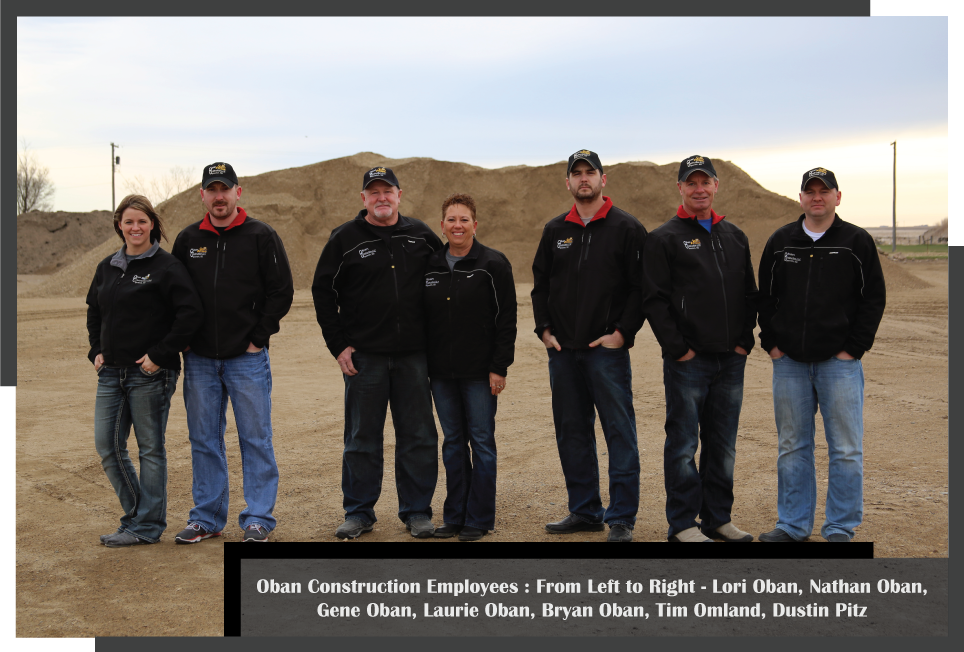 ---
Digging Forward!
Oban Construction, LLC is a family owned business that was founded and located in Ipswich, SD.  The driving factor in our company is to make a project a reality for you, the customer, in an effective, safe, and affordable way.  The goal of our company is to build a partnership and relationship with each and every customer we serve. Our intent is to design and build the project to your specifications!
Our Company Specializes In:
Grading

Aggregate

Graveling

Excavation

GPS Capabilities/Accugrade

Soil Corrections

Vinyl & Graphic Design

Truck & Trailer Repair Shop

Snow Removal

Culvert / Pipe Installation
Code of Ethics:
Oban Construction, LLC strives to meet the highest standard of ethics.  Honesty, trustworthiness, and fairness are a few of the top priorities each employee is dedicated to following.  We are committed to safety as well as teamwork in the completion of every project.  We believe that teamwork and safety are staples for the foundation of business between our company and our customers.  It is of utmost importance to us, that our customers receive the highest quality of work that Oban Construction, LLC can accomplish.
Pushing Forward with the Highest Standards:
In the past, Oban Construction LLC has handled business with the belief that a deal is sealed with the customer's word and a handshake. Today, to us,  this opinion has not changed.  Our highest standards are achieved every day by the hard work and drive of the employees.  Innovation also delivers this same high standard by allowing us to utilize new technologies to improve our completion time, precision, and cost reduction.  With innovation and teamwork, we are able to achieve the accountability the customer deserves.