Company History

Oban Construction, LLC is a family owned business that was founded and located in Ipswich, South Dakota.  In April of 1959, Virgel and Bernice Oban started their own construction company by purchasing equipment from Glen Jones of Ipswich, who decided to retire from his construction business.  Virgel was an employee of Glenn Jones for several years.  They initially concentrated on the earthwork construction needs of the soil conservation office, townships, counties, and farmers.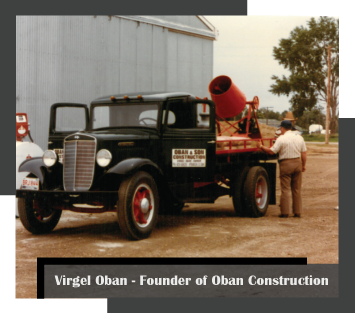 Virgel and Bernice's son, Gene Oban, began to work alongside his dad from the time he was old enough to operate the machinery.  In the late 1980's, a new work performance was introduced to the company.  Oban Construction began to participate in slope flattening for the State of South Dakota which entailed traveling away from home.
In April of 1999, Virgel decided to "semi" retire and sold his business to his son, Gene, and his wife, Laurie.  Virgel continued to work for the company until the time of his death in 2010.  In 2010, the company went from a sole proprietorship to a Limited Liability Company.
Gene and Laurie have two sons, Nathan and Bryan, who have joined the family business, making this a third-generation operation.    Nathan, like his father, has been operating equipment since he was old enough to run the machinery and therefore, has had the opportunity to know the business inside and out.  Nathan is our prime bidder and designs all of our GPS and accugrade projects for our company.  Bryan went to college and obtained a Bachelor's Degree in Digital Arts and Design, and has since joined the business and brought his knowledge to the company.
Under the helm of Gene and Laurie, and with the help of their two sons, Oban Construction, LLC has become very diversified.  Our company portfolio includes grading, aggregate, graveling, excavation, GPS capabilities / Accugrade, project management, soil corrections, truck and trailer repair and vinyl design.